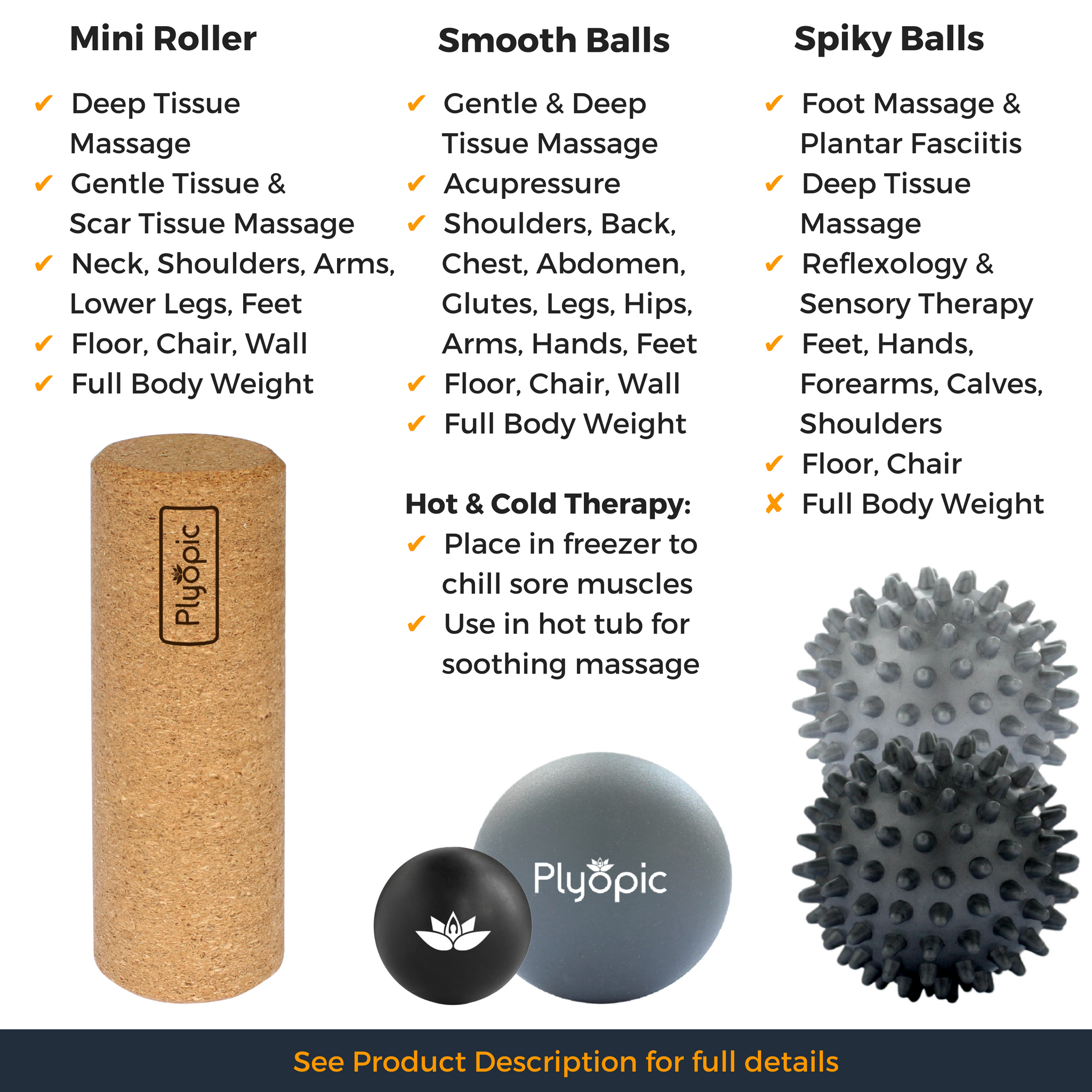 Plyopic Foot Massage Ball Set
Includes: 6.5cm Massage Ball, 3cm Massage Ball, 5x15cm Massage Roller, 7cm Spiky Massage Ball (Firm), 7cm Spiky Massage Ball (Medium), Carrying Bag & User Guide
For Foot Massage, Plantar Fasciitis Therapy, Myofascial Release and Trigger Point Relief
IMMEDIATE PAIN RELIEF – Take pain relief back into your own hands with a 5-Piece kit designed to release tight and uncomfortable muscles, reduce tension, increase blood circulation and target the widest range of body tissues: Feet, Hands, Arms, Legs, Neck, Jaw and Shoulders
RELIEVE TIRED SORE FEET – Soothe away the pain of plantar fasciitis and flat feet after a long day. Roll away those deep muscle knots in the heel, arch and soles of your feet…feel as light as a feather
YOUR OWN PERSONAL MASSAGE THERAPIST – Save the time and cost of physiotherapy massage treatments with a portable solution for home, work or the gym
RELEASE STRESS AND TENSION – Release stress and tension through penetration of both light and deep muscle tissues using self massage, acupressure, reflexology, myofascial and physical therapies
IDEAL FOR ATHLETES – Increase strength, mobility, flexibility and recover faster from injury when used as pre and post workout tools in Yoga, Pilates, Tennis, Golf, Hockey, Lacrosse, Crossfit etc. A travel essential for sportsmen and women
Discover the Soothing Powers of Plyopic Massage Balls
If your daily life is crippled by muscle pain, poor mobility or aching limbs, then massage is an ideal tool to soothe away your pains and effectively improve your
athletic performance. Plyopic Massage Balls allow you to take charge of your own muscle health in the most convenient and cost effective way, so you can get back to your routine in no time.

With the benefit of being able to control where and how much pressure you apply, Plyopic Massage Balls are perfect for foot massage, Plantar Fasciitis relief, deep tissue treatment, trigger point therapy, and myofascial release. The 5 ball set is designed to effectively target and release stress and muscle tension in the widest range of tissues within your body, so you can move better, recover faster, have less pain and perform better in all areas of your life.

How They Work

Top physical therapists, massage therapists and athletes all use massage balls for their own self-care. The balls work by isolating problem areas in your body and penetrating them through the pressure you create by laying or moving with the ball beneath you, simulating a massage therapist's palm or elbow.

Plyopic Massage Balls are made from premium, latex free, non-toxic materials and are able to withstand heavy use, either by those who enjoy intense massage strokes or by athletes who need a comprehensive warm up tool.
Deep Tissue Massage
Release long term or chronic pain and restriction in muscles, connective tissues, tendons, ligaments, and joints 
Reduce stress hormone levels, heart rate and blood pressure while boosting mood and relaxation
Plantar Fasciitis and Flat Feet
Stimulate blood flow in the feet and break down any painful adhesions on the plantar fascia ligament
Reflexology
By applying pressure to the reflex points on your feet and hands, you can balance your nervous system and stimulate endorphins, which reduces stress and discomfort
 Muscle Knots / Trigger Points
Eliminate stored tension in your muscles and release pain suppressing endorphins through pressure point and compression techniques
Acupressure
Extract accumulated stress from your body using massage ball acupressure techniques combined with calm, relaxed breathing
Use in bed at night for better sleep or on your desk chair for instant tension release and improved posture
Prevent Injuries
Pre Workout – Prevent injuries and release toxins in your muscles so you can drive yourself harder for longer
Post Workout – Reduce soreness and increase blood circulation, allowing oxygen and other nutrients to reach the muscles and other soft tissues, dispersing lactic acid and speeding up recovery
Accelerate Your Rehabilitation
Promotes repair and growth of muscle tissue by increasing mitochondrial activity in your cells
Reduces inflammation of tissues through the regulation of cytokines, which play a role in decreasing inflammation